Emsculpt is the first device to build muscle and sculpt your body. Through the high intensity electromagnetic therapy procedure one can enlarge current muscles, as well as grow new muscle fibers. The Emsculpt procedure is currently FDA cleared to treat your abdominals, buttocks, arms, calves and thighs. A great non-surgical alternative to the brazilian butt lift.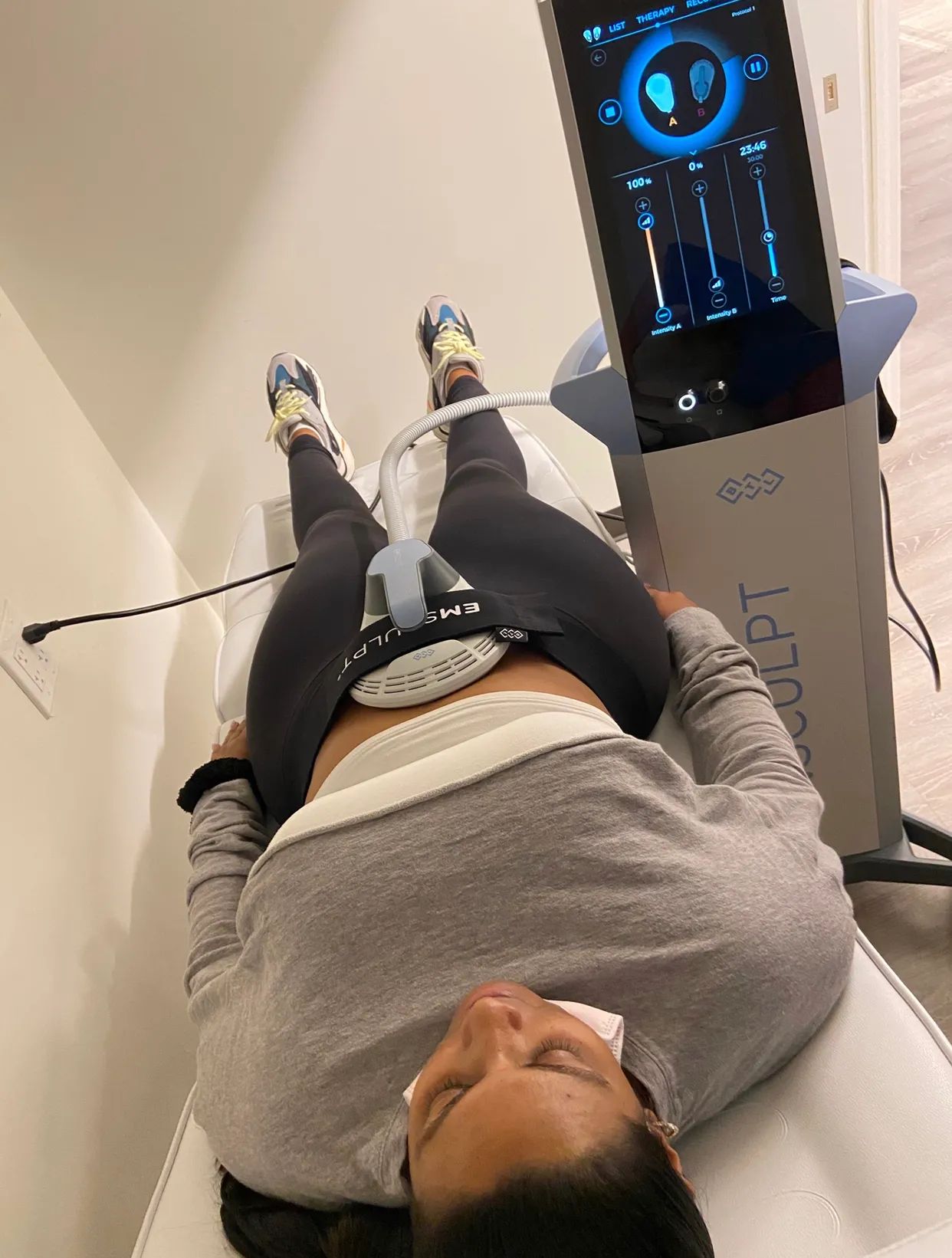 How Does Emsculpt Work?
Emsculpt is based on high-intensity focused electromagnetic energy. A single Emsculpt session causes thousands of powerful muscle contractions which are extremely important in improving the tone and strength of your muscles.
These powerful induced muscle contractions not achievable through voluntary contractions. The muscle tissue is forced to adapt to such extreme condition. It responds with a deep remodeling of its inner structure that results in muscle building and sculpting your body.
How Long Does It Take To See Results?
In just 4 – 30 minute sessions your body will begin to look more sculpted and defined. Emsculpt can be used to treat the abdomen, buttocks, arms, calves, and thighs. 1 session is equivalent to 20,000 squats in the gym.
Can Emsculpt Be Used To Treat Different Areas Of The Body?
The Emsculpt machine is FDA cleared for treatments on these areas of the body
Glutes
Abdomen
Calves
Biceps

CoolSculpting uses advanced cooling technology to freeze away fat cells for good. This non-invasive body shaping treatment targets areas of the body that resist diet and exercise, such as belly fat, love handles, thigh fat, back fat, double chin, upper arm fat, and more.
What is CoolSculpting?
CoolSculpting is cleared to eliminate stubborn fat under the jawline, under the chin, the upper arms, back fat, bra fat, the flank area (love handles), abdomen, thighs, and under the buttocks (banana roll)
How does CoolSculpting Work?
CoolSculpting uses cryolipolysis (fat freezing) to freeze the fat cells in the treated area. Following treatment, the body will naturally eliminate the dead fat cells, which can result in up to 20-25% reduction of stubborn fat in the treated area.
How long does CoolSculpting take?
One treatment typically takes as little as 35-75 minutes, depending on the area treated, with treatment sessions lasting 1-3 hours on average. For most patients, two or more treatment sessions are recommended to help reach their body contouring goals.